In Memorium
With Love, We Remember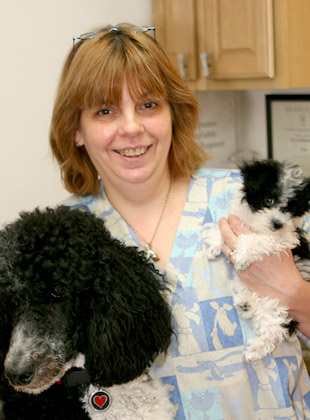 Karen M. Filosa
When tomorrow starts without me,
Don't think we're far apart
For every time you think of me,
I'm right here in your heart.
On February 25, 2013, County Line Veterinary Hospital lost its beloved friend and staff member, Karen M. Filosa. She was 55.
Karen began her career in animal care in 1984 as a dog trainer. She taught obedience classes and earned a reputation as a competent, compassionate and expert animal care professional. Her ability to work with difficult animals and to handle them in a variety of situations made her a much respected and sought-after trainer.
As one of our Veterinary Assistants, Karen personified our hospital motto "Professional Pet Care with a Personal Touch" in all that she did. She applied her gentle and affectionate nature to both pets and owners, she helped comfort and calm anxious pets during their hospital visits, and she was generous in her care and commitment to all animals. Karen knew the value of patience and kindness and integrated these virtues daily into both her professional and personal life.
Ever the dog lover, Karen found great joy in caring for our clients' pets and also her own five toy poodles. Her love for animals was surpassed only by her love for her family and friends. She treasured spending time with her husband of 33 years, Michael, and their children Mickey, Anita and Korinne. For 23 years, County Line Veterinary Hospital was blessed to have Karen as an employee. Upholding her memory is our simple way of expressing our gratitude to her and her family for her years of dedication, compassion and service. We will continue to hold her in our hearts fondly and remember her always as a champion of animals everywhere.
Karen, you were a treasure. You will always be missed.