Hatboro Pet Health Maintenance
Pet Health Maintenance Services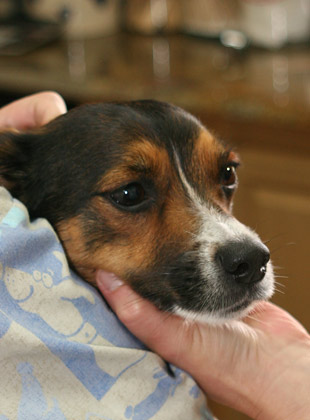 Dermatology and Allergy Testing
Itching, scratching and hot spots are all signs of allergies and skin conditions in pets. Allergies to pollen, dust and fleas are all very common and treatable, but if left untreated they can fester and become serious health concerns. No matter what your pet's skin condition, he or she receives expert veterinary dermatological care at County Line Veterinary Hospital. Special tests are used to identify the cause of your pet's skin condition and establish a treatment plan. We also take the time to explain your pet's condition, how to prevent future occurrences and the proper method of home treatment.
Glaucoma Prevention
Glaucoma is a common condition in which the fluid pressure inside the eye increases, resulting in damage to the optic nerve, followed by loss of vision and blindness. There are two types of glaucoma. Primary or chronic glaucoma is hereditary or develops as your pet ages. Secondary or acute glaucoma develops as the result of an injury or illness. Because secondary glaucoma can progress rapidly, it is considered an emergency situation.
Symptoms of glaucoma include:
Redness in the eye
Tearing or discharge
Eye sensitivity to light
Pain
Cloudy-looking eye
Bulging eyeball
The experienced veterinarians at County Line Veterinary Hospital recommend that your pet receive a routine glaucoma exam as part of his or her regular wellness care. The exam is not only an effective screening measure for chronic and acute glaucoma, it can also help set a baseline measurement of your pet's normal intraocular pressure (IOP). Establishing an IOP baseline is important because the normal measurement can vary between species, breeds and even individual pets.
This is a non-invasive, simple procedure that should not cause your pet any pain or discomfort. We apply a mild anesthetic eye-drop to ensure your pet is comfortable during the exam.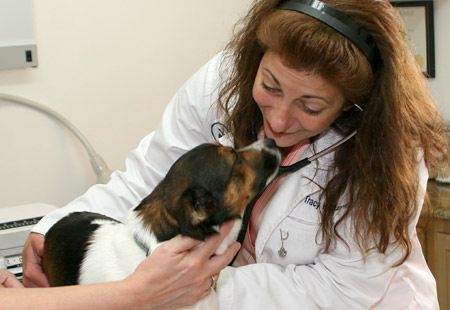 Internal Medicine
To best protect your pet's health and overall well-being, County Line Veterinary Hospital offers a broad range of veterinary services. While we primarily focus on disease prevention and wellness care, you can also rely on a team of skilled and compassionate medical professionals when your pet is sick. To that end, an important part of Dr. Heitzman's practice is the diagnosis and non-surgical treatment of diseases that can affect your pet's internal organs and body systems.
The hospital's experienced veterinarians have expertise in diagnosing and treating complex internal medicine cases such as kidney, heart, respiratory, immune-mediated and endocrine diseases.
Nutritional Counseling and Prescription Diets
County Line Veterinary Hospital understands how important a quality diet is to your pet's overall health. During your pet's comprehensive physical examination, we evaluate his or her body condition and give recommendations. Some pets require special food to maintain optimum health, but all pets benefit from a balanced, healthful diet. We have trained staff available to help you with any nutritional challenges you pet faces as well as the availability of prescription foods. We can also offer advice and provide information about diets that benefit specific medical conditions such as liver disease, bladder and kidney stones, renal failure, food allergies and other conditions.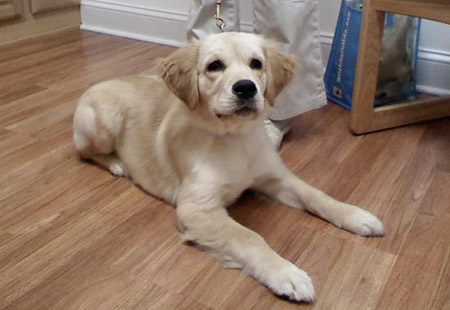 Behavioral Counseling
Behavior problems are the number one reason that owners give up a pet. County Line Veterinary Hospital offers behavior counseling for many of your pet's problems including inappropriate urination or defecation, aggression, separation anxiety, inappropriate chewing and barking, introduction of new pets into the household and household pets that are in conflict with one another. Oftentimes a behavior problem, such as inappropriate voiding, can be linked to a medical issue such as cystitis, bladder stones or kidney disease.
Dr. Heitzman and the medical team can help you recognize, validate and categorize behavior problems. We will then work closely with you to develop a specific plan designed to eliminate your pet's unwanted behavior. Additionally, if we cannot help with your pet's behavior problem, we can refer you to a board-certified animal behaviorist.
Reproductive Medicine
Whether you are an experienced breeder or you are breeding your pet for the first time, County Line Veterinary Hospital can help during all phases of the breeding process, from initial planning and consultation all the way through birth and post-natal nursing as well as the management of associated diseases and complications.
We provide the following reproductive medical services for your pet:
Pregnancy checks
Blood testing
Whelping
C-Section
As a part of County Line Veterinary Hospital's comprehensive reproductive services, we also have the ability to treat other problems that affect your pet's reproductive organs, such as vaginitis, prostate disorders and mammary disorders.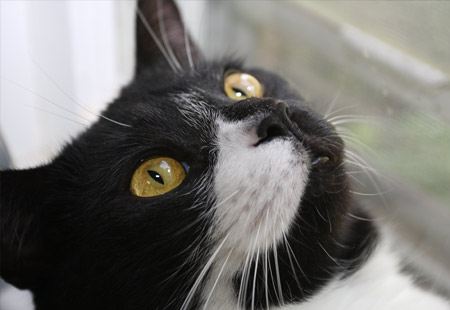 Treating Your Pet's Cancer
At County Line Veterinary Hospital, we consider many factors in advising the most appropriate course of treatment for your pet's particular case of cancer.
The standard treatment for almost all pet cancers is surgical removal of the lump. Benign (non-invasive, non-spreading) cancers in an accessible, well-defined area are almost always permanently cured by surgical removal. Surgery is also the best treatment for the majority of malignant cancers that have not yet spread (metastasized). Complex procedures may require referral to a specialist. Recovery from most surgery is rapid, and post-surgical pain is controllable using appropriate medications.
Chemotherapy involves the use of drugs that are designed to be damaging to cancer cells but unfortunately, they typically have some toxicity for healthy cells as well. Although much less serious than the effects felt by humans, some pets experience side effects such as anemia, reduced resistance to infection and gastrointestinal upset. The medical team will help you monitor your pet for these conditions.
Chemotherapy for pets has been designed to improve their quality of life and maximize their lifespans. Protocols are developed to minimize side effects such as vomiting, diarrhea and lowered resistance to infection. These effects can be moderated or eliminated by use of appropriate medications and adjustment of the chemotherapy protocol.
Before making the decision on the appropriate course of action for your pet, please discuss all of the relevant factors with your veterinarian so that you can make an informed choice. The veterinary field's understanding of cancer is increasing all the time, leading to better treatment approaches, quality of life and improved outcomes.
Referrals
There are times when it is in the best interests of your pet to refer you to a trained specialist. Your veterinarian will make that recommendation and communicate with the specialist and you to ensure that your pet is provided the specialty care he or she needs in a timely fashion.
We refer to:
Veterinary Specialty and Emergency Center (VSEC)
1900 West Old Lincoln Highway
Langhorne, PA 19047
(215) 750-7884
24 hours/day; 365/year
Center for Animal Referral and Emergency Service (CARES)
2010 Cabot Blvd, West Suite D
Langhorne, PA 19047
(215) 750-2774
24 hours/day; 365/year