Veterinary Surgical Services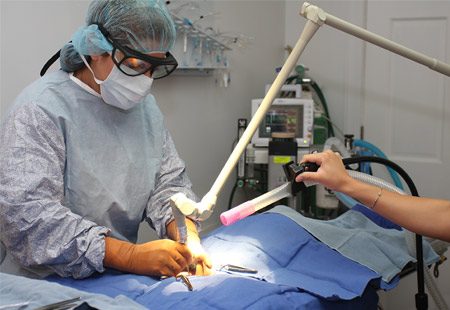 Your Pet's Surgery
Advancements in veterinary care mean that your pet's surgical procedures are far safer than ever before and, in most cases, recovery times are significantly reduced. County Line Veterinary Hospital carries a complete surgery suite and is dedicated to providing your pet with the highest quality care with the most compassionate approach. This includes the most up-to-date pain management protocols, advanced monitoring technology and the safest anesthesia available, all under the supervision of skilled veterinarians and highly trained technical staff.
Surgery
We understand that surgery is not an easy experience for you and your pet. At County Line Veterinary Hospital, we strive to ensure your pet's surgical procedure is as comfortable and stress-free as possible. To that end, we also endeavor to provide you with a clear understanding of why a particular procedure is necessary, what the procedure entails, proper post-operative care and convey any other information you may need to feel comfortable that you are making the right choice for your pet.
Dr. Heitzman's extensive surgical experience and team of highly trained veterinary technicians means we are able to safely provide a wide range of high-quality surgical services. These include soft tissue surgeries such as spays and neuters, gastrointestinal, spleen, bladder, mass removals, cystotomies, perianal adenomas, tumor resections and more. We also offer a number of orthopedic procedures such as bone settings, pinnings and femoral head osteotomies.
We believe that identifying and relieving pain is important to the recovery of your pet. Therefore, pain management is an important aspect the hospital's intra- and post-surgical protocols. At discharge, we may also send additional pain management medication home with you and your pet after providing a thorough explanation of its proper use and dosage.
Laser Surgery
County Line Veterinary Hospital is also able to offer laser surgery for a number of soft tissue procedures such as spays and neuters, mass removals and more. Laser surgery minimizes bleeding, reduces pain and swelling and promotes more rapid healing. When your pet undergoes laser surgery, he or she recovers more quickly and faces less post-operative pain. Laser surgery also is more precise and greatly reduces the risk of infection.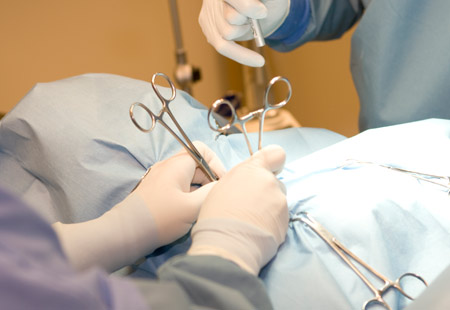 Safe Anesthesia & Monitoring
Anesthesia and cardiovascular monitoring are important, integral aspects of every surgery we perform. For this reason, your pet has access to the best and most advanced anesthetic administration and cardiovascular monitoring equipment and protocols available. Anesthesia is individualized for your pet based on a number of factors, which includes the type of procedure, his or her preexisting conditions, blood test values, age, breed and prior anesthetic experience.
During anesthesia and surgery, your pet is constantly monitored by a veterinarian and a trained veterinary technician, using an advanced monitoring system. This system continuously monitors your pet's arterial oxygen level, blood pressure, heart rate, respiratory rate and core body temperature. We also use a temperature controlled surgery table or temperature controlled water blanket in order to maintain a proper body temperature for your pet.