About County Line Veterinary Hospital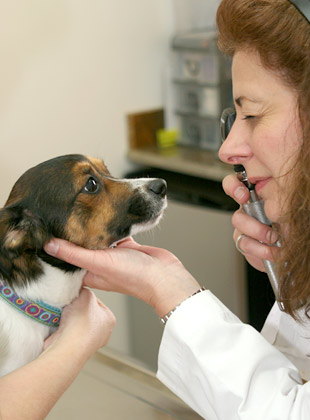 Preventive Pet Wellness
As animal care professionals, we know that the key to providing your pet with a long, healthy and happy life is preventive care. This is why thorough veterinary wellness checkups are a standard piece of the Hatboro pet care we offer. We also believe that the judicious application of vaccines is critical and have developed a protocol to protect your pet from the dangerous diseases most common to the eastern Pennsylvania region.
Preventive care does not begin and end at our veterinary facility in Hatboro. When you come in for an appointment, you will receive important home healthcare advice as well as new information and recommendations for the care of your particular type and breed of pet.
Comprehensive Veterinary Medicine
The compassionate veterinarians at County Line Veterinary Hospital understand that accidents and illness will happen even to the healthiest of pets. When your pet needs medical care, you can trust Dr. Heitzman and her medical team to use all their resources—modern diagnostic imaging equipment, in–house medical testing capabilities, complete surgical suite and wide range of internal medicine expertise and resources—to provide the best care available.
However, simply describing the services and resources at County Line Veterinary Hospital does not fully convey who we are. Every member at the hospital has dedicated their lives to the care of companion animals. Furthermore, we are pet owners and we understand that the bond between you and your pet is a strong and cherished connection. For this reason, we strive to provide clients and their pets with the care, service and welcoming atmosphere they so rightly deserve.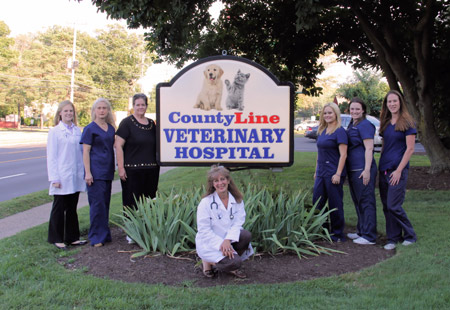 Community Involvement
County Line Veterinary Hospital believes that a veterinary practice must be a good neighbor to the communities it serves. This is why we are a sponsor the yearly breast cancer walk for the Susan B. Komen Foundation.
Leader in Hatboro Veterinary Care
In all, County Line Veterinary Hospital is committed to providing the highest quality of care for your pet by staff that is courteous and friendly, in a facility that is comfortable, safe and convenient. We don't want to be just your Montgomery County veterinarian, but a good friend and neighbor as well.
Please take some time to read about the veterinary services we provide and about why you should trust us with your pet's health, now and for years to come. If you have any questions or would like to schedule an appointment, please email or call (215) 675-0533.
Mongomery County Veterinary Care
County Line Veterinary Hospital's doors first opened in 1956 under the care and tutelage of doctors Harry and Carol Fegley. Throughout the years, they earned a strong reputation for providing pet owners in Hatboro and surrounding communities with compassionate, high-quality Mongomery County veterinary services.
In 2006, Dr. Tracy Heitzman purchased County Line Veterinary Hospital and initiated a complete renovation of the facility, which included upgrades to all of its equipment and services. Today, we are a modern, full-service veterinary hospital that is proud to offer a full range of veterinary services to friends and neighbors throughout Montgomery and Bucks Counties.
Hours of Operation
Monday – Friday: 9 a.m. – 8 p.m.
Saturday: 9 a.m. – 1 p.m.
Sunday: Pick-up/drop-off and phone consult only, 10 a.m. – 12 p.m.
Hours by appointment
Payment Policy
We accept cash, Care Credit, Visa, MasterCard, Discover and American Express. Payment is due at the time of service.