County Line Veterinary Hospital Staff
Melissa Dierkes, Veterinary Technician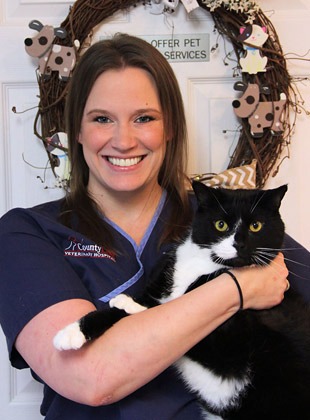 Certified Veterinary Technician Melissa Dierkes joined our staff in 2008, shortly after completing her Associate's Degree in Veterinary Technology at Manor College. She began her career in the pet care field in 2005.
Her duties with us include assisting during exams, taking thorough histories, and various procedures, collecting blood samples, placing IV catheters, running laboratory tests, taking radiographs (X-rays), administering medications and assisting during surgery.
Asked what she likes best about her work, Melissa says, "I love working for Dr. Heitzman, she's the best boss/friend I could have. The staff here is also wonderful and I consider them to be among my best friends."
Melissa's love for animals does not end with her workday as she has one Mini Dachshund named Brinkley, and one cat named Wilma at home. She also enjoys playing softball, watching baseball, singing, spending time with family and friends, watching movies and photography.
Melissa also has a sweet spot for ice cream. "I worked at Dairy Queen for 10 years, a family owned business," she says.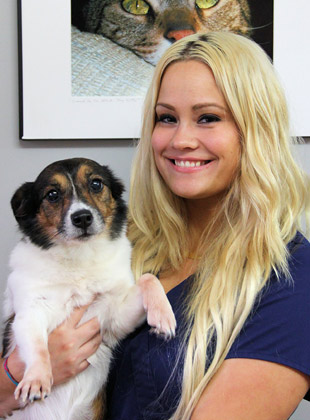 Nicole Miller, Veterinary Technician
With her compassionate personality, her willingness to learn new things, and her dedication to performing her very best work, Veterinary Technician Nicole Miller adds great strength to our hospital staff. Her job responsibilities include assisting the veterinarians during examinations, administering medications, helping with vaccinations and processing laboratory tests. Nicole has worked in the animal care field for over 12 years and joined our team in June 2013.
"CountyLine Veterinary Hospital is one of the most caring and friendly veterinary hospitals I have ever encountered," Nicole says. "Dr. Heitzman and Dr. Harvey are two of the nicest people I know. I enjoy working here because we all share a common goal of providing the best veterinary care for each pet that enters our hospital."
At home, Nicole shares her time with her three dogs, Miley, Chase and Lunchbox, and her cats named Littles and PK. When not at work, she enjoys working out at Orange Theory Fitness and spending time with her family and friends, especially her nephews Jackson and Nathan.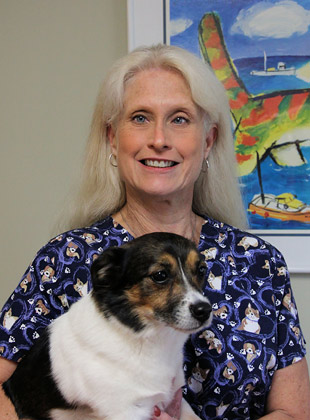 Patricia Bispham, Veterinary Assistant
Veterinary Assistant Patricia Bispham began working with County Line Veterinary Hospital in 2005 and has been involved with dog trainer for more than 25 years. She also has extensive experience in dog showing and grooming as well as a strong general knowledge of animal care.
Her primary responsibilities include assisting the veterinarian and veterinary technicians during exams and procedures, intake and discharge of boarders, and helping with the care of hospitalized pets.
When asked what she likes most about her work, Patricia says that she has a particularly close connection to County Line Veterinary Hospital. "This veterinary hospital is where I have taken my own pets for years," she says. "The doctor and staff are truly exceptional people who care deeply about the well-being of all animals, not just our clients. They go above and beyond when it comes to the welfare of animals."
At home, Patricia has a Lhasa mix named Max, two mixed breed dogs named Samantha and Sicily, and ten cats named Tiger, Baby Ward, Jasmine, Nipper, Imposter, Abbie, Bandit, Buffy, Garfield, and Maggie. She also enjoys bird watching, gardening, horseback riding, hiking and reading.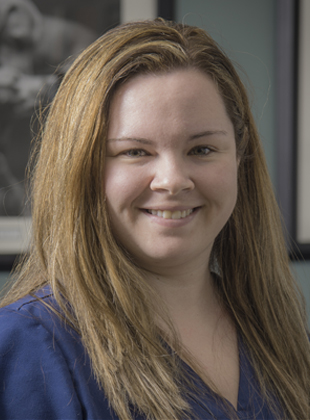 Madison McAllister, Veterinary Technician
Madison McAllister joined the veterinary technician staff at Central Veterinary Center in January 2017. She earned her Associate degree in Veterinary Technology from Manor College and is currently studying to take the veterinary technician national exam. While at Manor College, she was the captain of the horse care team, as well as a volunteer at Home at Last Dog Rescue.
"I'm really excited to work at Central Veterinary Center given that I've taken my pets here for many years and know what a warm, friendly environment with such great staff is here," Madison says. "I can't wait to further my knowledge and become a better veterinary technician!"
At home, Madison has two 1-year-old domestic shorthair cats named Penny and Oliver. In her free time, she enjoys road trips to new places, watching the Philadelphia Phillies and going to the beach.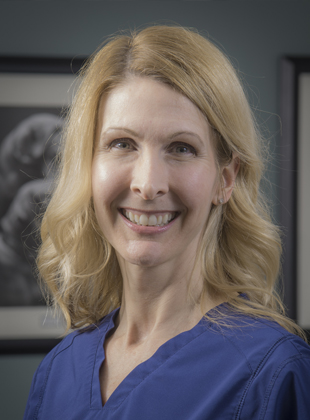 Dawn Mills, Veterinary Technician
Veterinary Technician Dawn Mills began working for Countyline Veterinary Hospital in September of 2017. Before joining our team, Dawn attended the University of Delaware, achieving a bachelor's degree in elementary education. She also possesses an associate degree in veterinary technology from Manor College.
Since graduating, Dawn has been working in the animal related field for over 5 years. Dawn has prior experience working as a Receptionist for a boarding facility between 2012 and 2014, as well as experience as a Technician Assistant from 2014 through 2017.
At home, Dawn has 2 cats, Penelope and Natasha, and two dogs, a Cav-a-chon named Rudy, and a hound mix, Luna. In her spare time, Dawn enjoys spending time with her husband and 3 daughters.
Missy Brennan, Receptionist
Melissa is a receptionist at Central Veterinary Center. Her job responsibilities include answering phones, booking appointments and greeting clients. Her favorite part of the job is learning about animals and medications. She is currently taking college courses. Melissa says, "I like working here because I have heard many great things. The other employees are very nice and fun to work with."
At home, Melissa has a pug named Gizmo, an Irish wolfhound/lab named Kaiya and a tabby cat named Dewey. She enjoys walking her dogs and teaching them tricks. She also enjoys fishing and working out.